18 и 24 декабря состоялись соревнования посвящённые Международному дню сноуборда 2011 года. Подробнее
25 сентября на г/к Ангарская гора прошли соревнования по ДХ Подробнее
24 сентября состоялись ежегодные соревнования Born To the Rail aggresive inline street contest Подробнее
http://ravnovesie.net/components/com_gk2_photoslide/images/thumbm/375031123.jpg
http://ravnovesie.net/components/com_gk2_photoslide/images/thumbm/82459409_dh_135.jpg
http://ravnovesie.net/components/com_gk2_photoslide/images/thumbm/6498820_6c581_83cde8bb_orig.jpg
| | | | |
| --- | --- | --- | --- |
| Видео RedBull Rampage 2010 Финал | | | |
Автор: stepka
Вторник, 05 Октября 2010 00:45
В воскресенье прошел долгожданный RedBull Rampage 2010.
Результаты: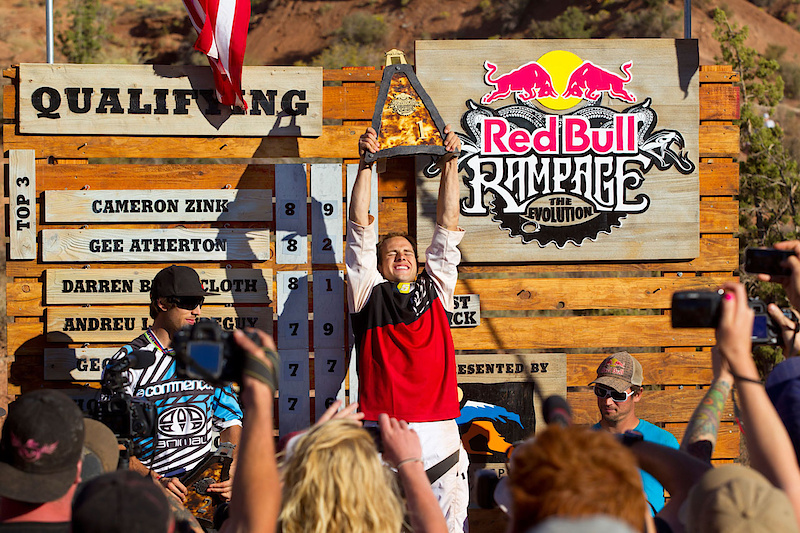 1st - (89.20) Cameron Zink, 24, USA, Corsair Bikes
2nd - (82.40) Gee Atherton, 25, UK, Commencal Bikes
3rd - (81.20) Darren Berrecloth, 28, Canada, Specialized Bikes
4th - (79.00) Andreu Lacondeguy, 21, Spain, Mondraker Bikes
5th - (77.20) Geoff Gulevich, 23, Canada, Rocky Mountain
6th - (76.60) Thomas Vanderham, 26, Canada, Evil Bikes
7th - (76.00) Robbie Bourdon, 24, Canada, Intense Bikes
8th - (75.60) Kyle Strait, 23, USA, Pivot Bikes
9th - (74.80) Logan Binggeli, 21, USA, KHS Bikes
10th - (73.00) Kurt Sorge, 21, Canada, Giant Bikes
11th - (72.20) Alex Prochazka, 19, Canada, Commencal Bikes
12th - (71.80) Tyler McCaul, 20, USA, GT Bikes
13th - (71.00) Graham Agassiz, 20, Canada, Kona Bikes
14th - (70.40) Cedric Gracia, 32, France, Santa Cruz Bikes
15th - (65.60) Greg Watts, 23, USA, Haro Bikes
16th - (64.20) Michal Marosi, 32, Czech, KTM Bikes
17th - (63.80) Jamie Goldman, 24, USA, Santa Cruz Bikes
18th - (62.40) Curtis Robinson, 21, Canada, Knolly Bikes 
DNF - James Doerfling, 24, Canada, Knolly Bikes
DNF - Mike Hopkins, 24, Canada, Independent
DNF - Chris VanDine, 29, USA, Cannondale Bikes
Your are currently browsing this site with Internet Explorer 6 (IE6).
Your current web browser must be updated to version 7 of Internet Explorer (IE7) to take advantage of all of template's capabilities.
Why should I upgrade to Internet Explorer 7?
Microsoft has redesigned Internet Explorer from the ground up, with better security, new capabilities, and a whole new interface. Many changes resulted from the feedback of millions of users who tested prerelease versions of the new browser. The most compelling reason to upgrade is the improved security. The Internet of today is not the Internet of five years ago. There are dangers that simply didn't exist back in 2001, when Internet Explorer 6 was released to the world. Internet Explorer 7 makes surfing the web fundamentally safer by offering greater protection against viruses, spyware, and other online risks.
Get free downloads for Internet Explorer 7, including recommended updates as they become available. To download Internet Explorer 7 in the language of your choice, please visit the Internet Explorer 7 worldwide page.